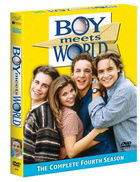 Posted : 10 years, 2 months ago on 23 April 2008 10:49 (A review of
Boy Meets World: The Complete Fourth Season
)
Although I'm not making this a very detailed review as to the content of the show, I hope that a company will soon buy the rights to release the rest of the seasons on DVD. It's a hillarious show that needs to be seen by future generations.

0 comments,
Reply to this entry

Posted : 10 years, 3 months ago on 16 April 2008 12:06 (A review of
Ultimate High
)
In 2001, the top 40 music scene was infiltrated with music by Britney Spears, Christina Aguilera, and other "artists" who felt they had to lipsync their music when performing live. Well Carly Hennessey (or as she's now know on American Idol as Carly Smithson) released a top-notch album in 2001! The songs are very adult-contemporary, and what drew me to them in the first place was her use of curse words and sexual references in pop music. This is a way better album than any of the music she sings on Idol!

0 comments,
Reply to this entry